Essentials of Human Resource Management
Sep 17 2019 - Sep 20 2019 | PMAP Center P18,000.00-MEMBER | P20,000.00-NON MEMBER
<!HEADER>
<!END OF HEADER>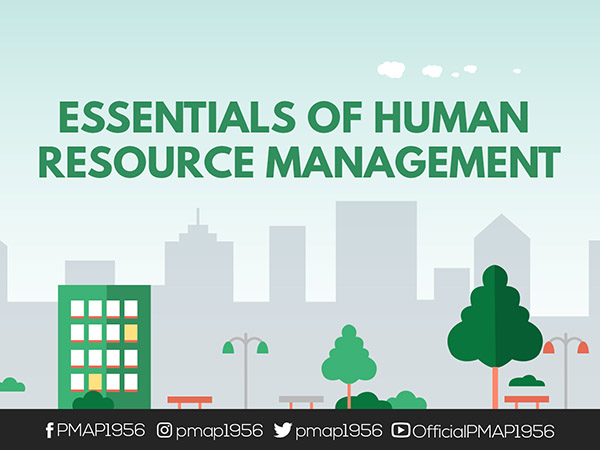 Essentials of Human Resource Management
Countdown:

Objective:
This course aims to provide participants with a theoretical foundation as well as a perspective from which to view the overall human resource management function as it is integrated with the total corporate function. Participants will gain the needed knowledge and skills to enable them to perform the different functional operations in human resource management while providing them insights on current issues and trends involved in the practice of the profession.
Program Content
Module 1:
Human Resource Management Overview and Staffing (Day 1)
A. Overview
Definition of HR
Business Drivers
HR Mission
Traditional Personnel Management vs. Human Resource Management
HRM Wheel
HR Information System
HR Competencies (Hewitt)
HR Roles
B. HR Staffing
Recruitment and Selection
Module 2:
Developing the Human Asset (Day 2)
A. Performance Management System
B. Training and Development
C. Organization Development
D. Evaluating HR Development Programs
Module 3:
Rewards Management (Day 3)
A. Overview
B. Administration
C. Legal Considerations
D. Compensation Management Process
D. Compensation Management Process
E. Recent Trends
Module 4:
Employee and Labor Relations (Day 4)
A. Labor Relations
B. Management Rights
C. Employee Rights
D. Employee Discipline Concepts
E. Recent Trends
Methodology:
| | |
| --- | --- |
| | The Program will utilize a combination of lecture, discussions, role playing, practice session, group discussion and critiquing. |
For inquiries you may contact the AIHRM Group:
IMPORTANT: * CANCELLATIONS MADE IN LESS THAN SEVEN (7) WORKING DAYS PRIOR TO THE SCHEDULED DATE WILL BE CHARGED 50 % OF THE ENTIRE PROGRAM COST. WHILE NO-SHOWS ON THE DAY ITSELF WILL BE CHARGED IN FULL. AS PART OF OUR BUSINESS IMPROVEMENT WE WOULD APPRECIATE RECEIVING PAYMENTS THREE (3) DAYS BEFORE THE SCHEDULED DATE THROUGH BANK DEPOSIT, PREFERABLY CHECKS OR DIRECTLY TO THE PMAP CASHIER. PMAP RESERVES THE RIGHT TO RESCHEDULE PROGRAMS IF THE MINIMUM NUMBER OF PARTICIPANTS IS NOT MET. CERTIFICATES WILL ONLY BE GIVEN TO THOSE WHO HAVE PAID IN FULL.
---
Click Here to Register:
Register through Online: