Organizational Development Interventions
Aug 19 2019 - Aug 20 2019 | PMAP Center P11,500.00-MEMBER | P13,000.00-NON MEMBER
<!HEADER>
<!END OF HEADER>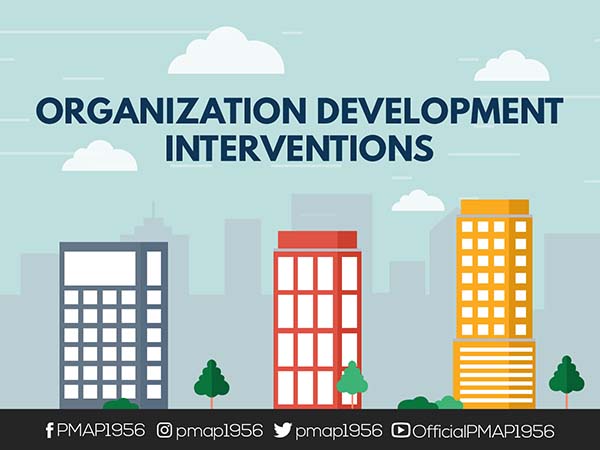 Organizational Development Interventions
Countdown:

Course Description:
This course provides an overview of OD interventions in relation to the entire process of organization development. It also covers the different principles and guidelines in identifying and determining the appropriate interventions derived from the analysis of the situation of the organization.
Course Objectives:
At the end of the two-day workshop, the participants will be able to:
| | |
| --- | --- |
| | 1. Discuss the framework of Organization Development interventions |
| | 2. Explain the different types of OD interventions and its applications |
| | 3. Design appropriate OD interventions |
| | 4. Identify factors/conditions for success in the implementation of OD interventions |
| | 5. Evaluate effectiveness of OD interventions |
Course Outline:
I. Review of OD Cycle
II. Overview of OD Interventions
1. Definition of OD intervention
2. Nature of OD Interventions
III. Identification and Design of Effective Interventions
1. Organization Level
a. Organization Design and Restructuring
b. Reengineering
c. Strategic Management
d. Corporate Culture Transformation
e. Quality Systems and Management
f. Managing Organizational Transition, Rightsizing, Closures and
Expansions
g. Integration after Merger or Acquisition
h. Reward System
i. Third Party Intervention
2. Group and Inter-group Level
a. Role Analysis and Clarification
b. Leadership and Normative Interventions
c. Process Teams
d. Wok Process Change
e. Vision, Mission and Values Development
f. Goal Setting
g. Team Assessment
h. Quality Circles
i. Customer-Supplier Alignment
3. Individual
a. Management Development
b. Performance Management
c. Career Development and Planning
d. Team Leadership Skills
e. Communication Skills
f. Values Clarification
g. Job Redesign
V. Evaluation of OD Interventions
1. Feedback
2. Measurement
VI. Key Success Factors of OD Intervention
Methodology:
| | |
| --- | --- |
| | Lecture |
| | Group Discussion |
| | Structured Learning Exercises |
| | Instrumentation |
| | Casework |
Facilitator:
Gerrie Baricaua
President, HR Approaches, Inc.
Former HR Director, Nielsen Company
For inquiries you may contact the AIHRM Group:
IMPORTANT: * CANCELLATIONS MADE IN LESS THAN SEVEN (7) WORKING DAYS PRIOR TO THE SCHEDULED DATE WILL BE CHARGED 50 % OF THE ENTIRE PROGRAM COST. WHILE NO-SHOWS ON THE DAY ITSELF WILL BE CHARGED IN FULL. AS PART OF OUR BUSINESS IMPROVEMENT WE WOULD APPRECIATE RECEIVING PAYMENTS THREE (3) DAYS BEFORE THE SCHEDULED DATE THROUGH BANK DEPOSIT, PREFERABLY CHECKS OR DIRECTLY TO THE PMAP CASHIER. PMAP RESERVES THE RIGHT TO RESCHEDULE PROGRAMS IF THE MINIMUM NUMBER OF PARTICIPANTS IS NOT MET. CERTIFICATES WILL ONLY BE GIVEN TO THOSE WHO HAVE PAID IN FULL.
Click Here to Register:
Register through Online: